With the warmer weather finally here, it is also that time of year when I start to think about sunscreen. This past weekend we dug out our sunscreen from last summer and started the day long ritual of lathering it on. I know you know how important it is to wear sunscreen and block those harmful sun rays, but also to prevent burns…..and ultimately the big 'C' word!
So yeah, I am a stickler about sunscreens…especially since my kids are young … fair haired, and very white!
Sunscreen is one of the things I worried about when my first-born was a baby, because I was always hearing how sunscreen was not safe for babies under 6 months of age. I just couldn't believe it then and wracked my brain trying to figure out how to dress him in the summer months without exposing too much skin and also without him melting! There are definitely ways to avoid the sun in the summer (and no, covering your stroller is NOT one of them – this is not safe at all and can actually lead to overheating – but that is another blog for another time).
The truth is sunscreen is not recommended for babies under 6 months because…..drumroll please…. because their skin is so thin and delicate and the junk on the shelves is so toxic. Yup! The idea is that you don't want to be lathering on all the toxic chemicals onto your baby under 6 months because their skin WILL absorb a lot of it and their little tiny system is not able to adequately de-toxify those chemicals out.
The solution? Be aware of the ingredients found in your sunscreen, choose a natural one without the ick or make your own (keep reading for a super easy recipe).
6 Ingredients You DO NOT Want In Your Sunscreen, and 1 that you DO!
Did you know that there are all sorts of nasty chemicals found in conventional sunscreens? Once you know, there is no going back!
When I started my journey into reducing the toxins in our lives about 8-9 years ago, I went down many many rabbit holes, and sunscreen was one of them. Unfortunately one thing I have learned is how many icky chemicals are in conventional sunscreens. And let me tell you, there is no way I am putting that on my children's skin….or my own. I am now consciously reading labels and becoming more aware of all the ingredients to avoid. I have also started reaching for natural alternatives to most things, and even make some of my own DIY products (which, by the way, are actually super easy, and usually all include a core few ingredients).
Let me be clear, had you asked me 9 years ago what sunscreen I used, I probably would have looked at you funny and told you that I use normal sunscreen from Shopper's or some other drug store. Something like Aveeno, Neutrogena, or even Banana Boat in a pinch.
Now I know better….so I do better!
Two of the most common 'no-no' ingredients are avobenzone and oxybenzone. A 2018 FDA-commissioned study found that common sunscreen ingredients – including oxybenzone and avobenzone – were absorbed at much higher concentrations than expected. A follow-up study in 2019 found similar results with additional common ingredients. This means that according to FDA rules, the manufacturers need to demonstrate that the products don't cause cancer, developmental issues, or endocrine disruption.
In addition to the avobenzone and oxybenzone, some other ingredients to watch out for, that are often found in conventional sunscreens, include:
octinoxate/ethylhexyl methoxycinnamate
homosalate
octisalate
octocrylene
These ingredients are chemicals that have been found to be endocrine disruptors and carcinogenic.


What you put in and on your body matters!
Our skin absorbs ingredients, which then get into our bloodstream (and coursed all over our body) in 30 seconds. If you're thinking that doesn't matter, it does! Not only do conventional sunscreens have all these icky, toxic chemical ingredients, many of these are known to harm coral reefs as well, so they are not only harming our bodies, but also our environment!
What Ingredient Should You Use Instead?
Okay, so now you know what ingredients to avoid in your sunscreen, there is one important ingredient that you want to look for. This one is much better for your body than any of the chemical ingredients in conventional sunscreens, or even than using no sunscreen at all.
That ingredient is Zinc Oxide!
Zinc oxide is a mineral, and it's one of the main active ingredients in many mineral sunscreen. This is actually the one that does the work of protecting your skin from the sun's damaging rays. Zinc oxide sits on top of your skin (rather than soaking in, like chemical sunscreens do) and protects you by scattering, absorbing, and reflecting the sun's rays. And, if you want to go the extra mile and be sure that your store bought mineral sunscreen or your homemade sunscreen is even safer, then you want to make sure that you are using one with NON-nano zinc.
Why? Well, regular nanoparticles are very small and they can find their way into your body by penetrating your skin and getting into your bloodstream. The non-nano particles are bigger and therefore will not enter the bloodstream, but rather sit on top of the skin.
Right now you might realize that your current sunscreen is actually filled with a bunch of ick, things you do NOT want to be lathering on your body, and actually might be really affecting your health. Perhaps you have debated making the switch, but the thought of giving up your favourite conventional sunscreen makes you want to run for the hills. I am here to tell you, if you've been delaying making the switch to natural sunscreens, now is the time.

Do Natural Sunscreens Really Work?
I know, I know, you might be thinking but do the natural sunscreens really work?
Believe me, I hear you!
I've done the trial and error on my quest to find the best natural sunscreens to protect you and baby. My key criteria focused on: low toxins and usability.
I tried a bunch of different natural sunscreens – Green Beaver, Substance, Badger, and Attitude, to name a few. And to be honest, I was very under-whelmed and frustrated. They were either greasy and oily, or they left a white residue on my skin. So I was very skeptical that I could find a natural, toxin free sunscreen that I liked.
I mean really, a great sunscreen needs to do its job of preventing sun damage while also being easy to rub in. What good is a natural product if it leaves a greasy white residue?
Drum roll… enter in…. Thinkbaby Sunscreen. I love the low toxin levels and the way the label includes a rating for each ingredient. This one feels like, looks like, and rubs in the same was as my old conventional sunscreens, and it has really great ingredients. And get this: it's conveniently available online or at many local stores.
But truth be told, I did not love the higher price tag with it, so I wanted to find a more financially pleasing option…enter in this DIY sunscreen recipe. We made this last year for the first time and fell in LOVE!!! It worked so well and kept us from burning all summer long. Even my husband mentioned he prefers this DIY sunscreen to the store bought ones – bonus!
Here is the recipe…
1/4 cup Coconut Oil
1/4 cup of Beeswax
1/2 cup Apricot Kernel Oil (or Almond oil or Carrot Seed carrier oil)
2 tbsp of non-nano zinc *this is important*
2 tbsp shea butter (optional)
20 drops of essential oils of your choice (I used Lavender and Frankincense)
Check out this video to see the step by step directions for making this – https://youtu.be/CN1ooocE3zA

So lather up and enjoy! Of course, remember that you still need to apply this regularly….like every 1-2 hours when out in the sun 😉
This recipe has a natural SPF of about 15-20, but by adding more non-nano zinc oxide you can increase the spf. Add more beeswax to make a thicker sunscreen, and less beeswax to make smooth.
Here is a picture I found with some other natural SPF options, in case you want to experiment and try your own.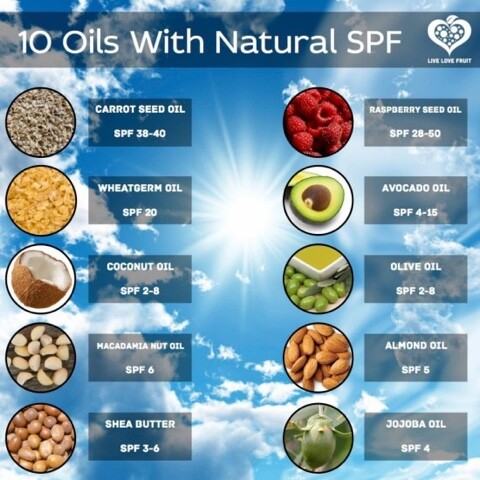 ---
I hope this helps you understand what is in your conventional sunscreens, and make the best decisions for you and your family.
Let me know how you like these options if you give them a try.
And if you are looking for more ideas and learning on using natural alternatives for your baby and your family, or if you need some help understanding your baby's development and/or sleep, then I've got you covered over in the Sleep Deprived Mamas: Holistic + Heart-Centred Support (without sleep training) FB group. It free! Join here.